Two Kinds Of Justice Intertwined
Criminal justice addresses the public dimensions of crime:
Societal interests
Societal obligations
Restorative justice addresses the private dimensions of crime:
Victim needs
Offender obligations
Offender needs
Community needs
Community obligations
Victim Needs
Information
Why the crime happened
What has happened since the crime
Truth telling
Telling their story of the crime to the offender
Giving an impact statement for offender sentencing
Empowerment
Involvement in the criminal justice resulting from the crime
Restitution
Offender making right the harm
Support services for:
Physical healing
Mental healing
Emotional healing
Offender Obligations
(As fits each individual)
Accountability
Taking responsibility for their crime
Addressing the harms they did
Developing empathy for their victim(s)
Community service (20 to 30 hours based on the offense)
Shoplifting prevention classes
Random alcohol and drug screening
Other programming as directed by the case manager
Offender Needs
(As fits each individual)
Recognition and healing for any harms that contributed to the criminal behavior
Treatment for addictions and/or other problems
Enhancement of personal competencies, such as literacy training
AODA assessments and treatment program
Mental health assessments/counseling, on-going treatment
Financial wellness programs
Working with a mentor
Reintegration into the community
Other programming as directed by the case manager
Community Needs
Attention to community concerns about the crime
Opportunities to create a sense of community and mutual accountabilty
Community Obligations
For all community members, fostering:
physical health
mental health
emotional health
Creating opportunities for personal success
Reducing The Need For Restorative Justice
My childhood was horrific, but other children endure worse than I did. All children with horrific childhoods grow up having difficult coping with normal life. Some of us harm ourselves. I was a compulsive overeater for 25 years. Some of us harm others. I screamed at my daughter until I finally was able to put physical, mental, and emotional clues together and face the cause of the horror. Other children grow up to harm both themselves with drugs and alcohol and others with violence and crime.
One community obligation is to pay attention to Adverse Childhood Experiences (ACEs). Paying attention to ACEs will go a long way toward addressing physical, mental, and emotional needs in your community. Recognizing the consequences of unmet needs will reduce the stereotypes that stop ripples of success. When stereotypes deny opportunities to people with high ACE scores, fewer ripples of success exist to reach you. Taking care of others creates more opportunities for you.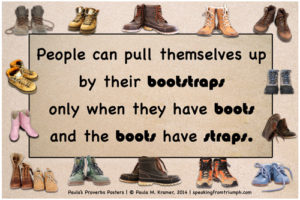 Everyone benefits from each ripple of success.
Resources
"ACEs 101"
ACEs Too High News
No Date
Adverse Childhood Experiences (ACEs)
Violence Prevention
Centers for Disease Control and Prevention
"Adverse childhood experiences, posttraumatic stress disorder symptoms, and emotional intelligence in partner aggression"
Rachel M. Swopes , Daniel V. Simonet, Anna E. Jaffe, Robert P. Tett, and Joanne L. Davis
Violence and Victims
Volume 28(3), 2013: pages 513-530
"Got Your ACE Score?"
ACEs Too High News
No Date
"The Employment of Ex-Offenders is Important to Everyone"
Project Return
The Huffington PostI
March 25, 2013
"What's behind record exonerations for wrongful convictions"
Henry Gass
Christian Science Monitor
February 5, 2016
© Paula M. Kramer, 2017
All rights reserved.
Updated October 26, 2016.